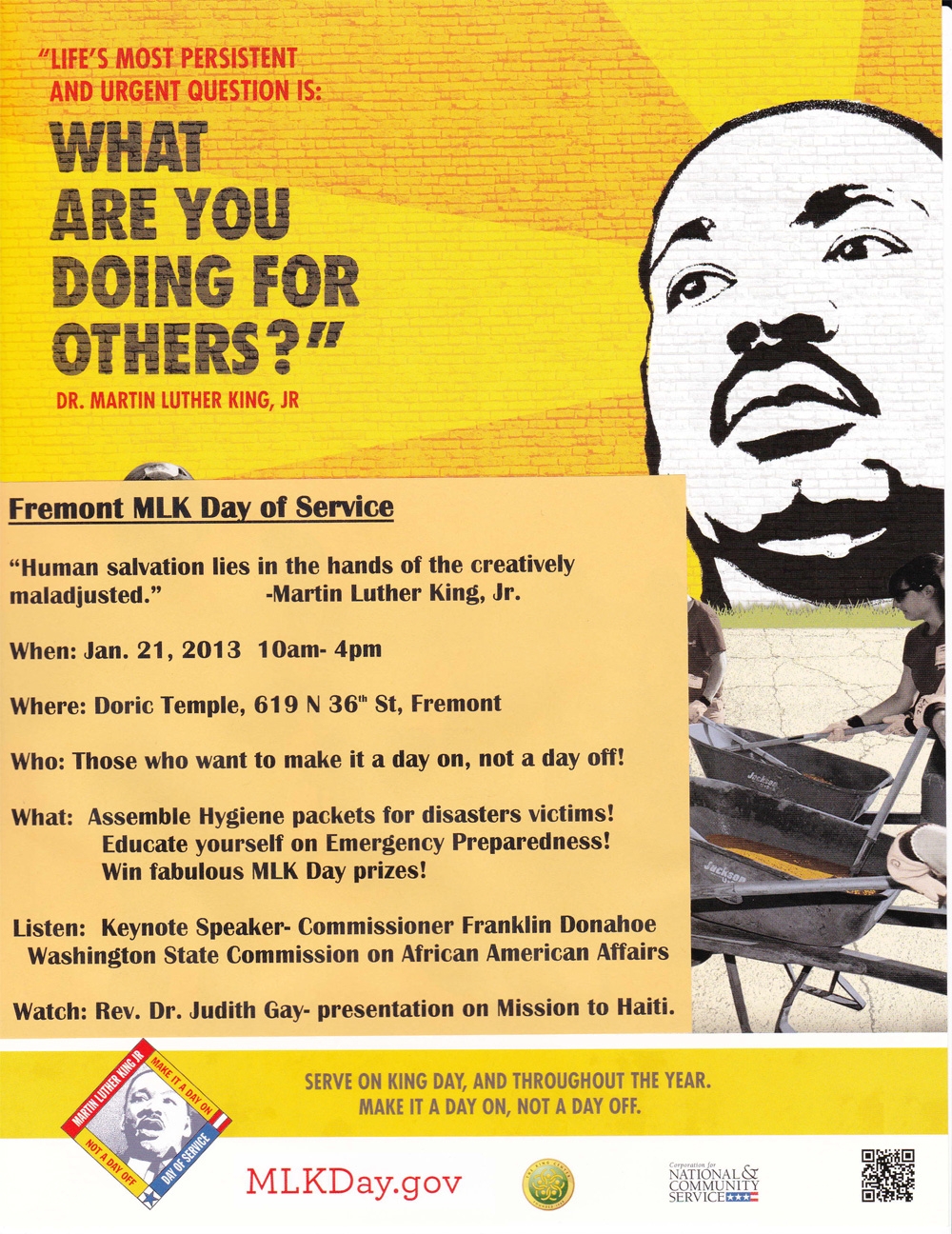 Fremont MLK Day of Service ~ Make it a day on, not a day off!
"Human salvation lies in the hands of the creatively maladjusted."      -Martin Luther King, Jr.
 Jan. 21, 2013   10am- 4pm   Doric Temple, 619 N 36th St., Fremont
Assemble Hygiene packets for disaster victims!
Educate yourself on Emergency Preparedness!
Win fabulous MLK Day prizes!
Hear Keynote Speaker- Commissioner Franklin Donahoe, Washington State Commission on African American Affairs
Watch Rev. Dr. Judith Gay'spresentation on Mission to Haiti.
Tentative Agenda
10 am- Coffee and cider for volunteers as they come in to the Doric dining hall.
10am-12 noon-Volunteers put together disaster hygiene packets with assistance from Fremont Baptist Church members.
10am-12 noon-Community Service Forum with tables for representatives from Fremont organizations to talk to public about ways to serve the community and give brochures out  Participating Groups
Fremont Baptist Church
B.F. Day School
Doric Lodge #92- Emergency Preparedness table
Fremocentrist
Fremont Chamber of Commerce
Fremont Neighborhood Council
The Hallows Church
12 noon-Free Lunch/Potluck
1:30 pm- Speakers and Presentations- upstairs in Lodge room
WB Ralph Weathers- Master of Ceremonies
Keynote Speech
Prize drawings- MLK Day of Service t-shirts, bags and emergency preparedness kits
2:30pm-4pm MLK Day of Service DVD showing Rev. Judy Gay – Haiti Mission Trip Slide Show.